We're back with Week 3 of the One Room Challenge and with the photographer coming in ten days I'm biting my nails down to the nubs in working through the final details.
The Good News
My Monsoon II range hood insert by Zephyr arrived at my front door yesterday just as I was boarding a plane to San Francisco. Here in SF I'm visiting Zephyr's Design and Experience Center to learn more about their kitchen ventilation products and wine and beverage coolers. Be sure to follow my instastories to get a peek into my adventures.
I quickly alerted my trim carpenter so he could grab the insert to make the custom vent hood cover. The plan is for the custom wood cover to feature the same trim detail found in the pediments he built around my doorways last fall. I also hired him to build a new mantel for the breakfast area. Here's the inspiration for the new hood!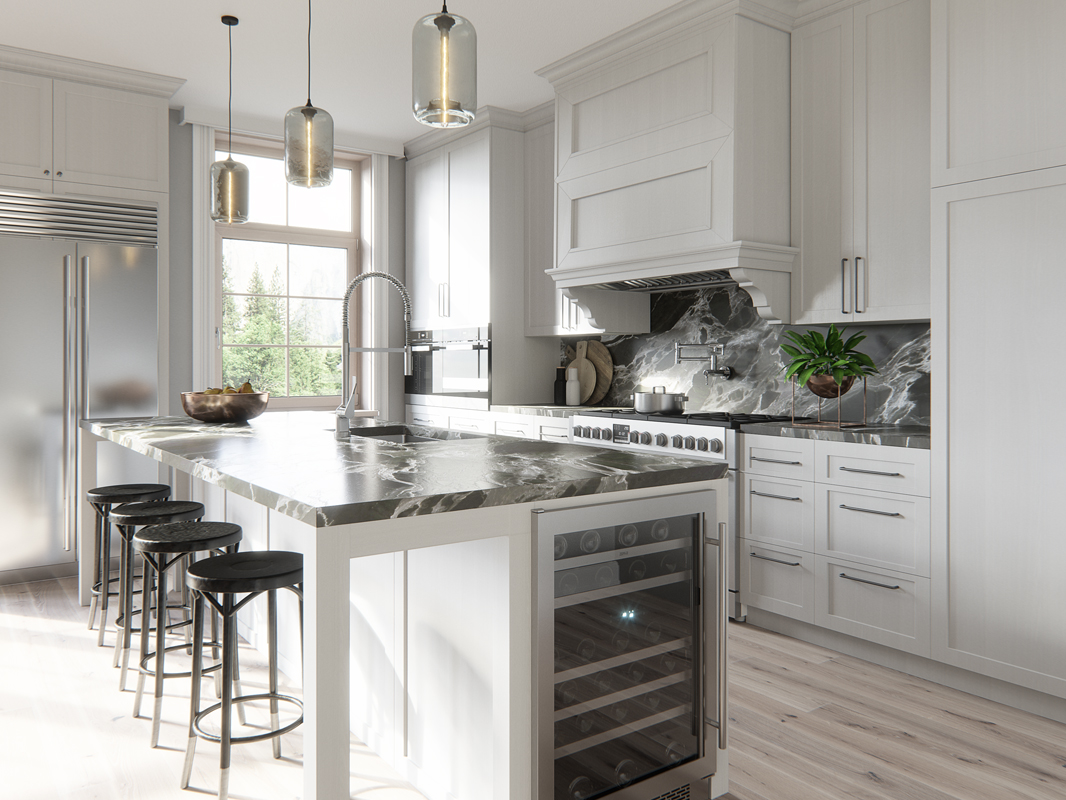 But here's where things get complicated.
Over the weekend I received a mailer from a local store advertising their warehouse sale for what—vent hood covers and mantels. Just what I need!! I can't make this up people. The sale starts this Thursday so I plan to have Brooke, our Design Associate, check it out for me while I'm away. These vent hoods are delicious eye candy and I hope we get lucky!!! Wish me luck.
Rev-A-Shelf to the Rescue
In other news, I gained a partnership with Rev-A-Shelf to help us organize the kitchen! We're outfitting our existing cabinetry with waste container pullouts, base cabinet organization for pots and pans, and under sink solutions that protect cabinetry and organize cleaning supples. For the upper cabinet, we plan to install a new spice rack to hang on the inside of the door. I can't wait!!
LIFECORE HARDWOOD FLOORING, An Answered Prayer
Last year we had the original floors refinished, however the contractors used a water-based poly that didn't last a month. Our floors looked horrible. The plan was to have them refinished again, but with oil-based poly. I wasn't too thrilled with the idea of being exposed to the strong fumes. My 6-year old is one-year post chemotherapy so I'm way more conscious about exposing him and our other four children to harmful materials. But turns out our engineered floors can't take another sanding. The only option now is to replaced them.
We reached out to LIFECORE and they've agreed to help us out! We chose the Abella Moderna Acacia wood floor because we love the hand scraped texture and the warmth this color adds back to our new white kitchen. We have hand scraped bamboo floors in the adjacent family room, dining room, and foyer which have been very forgiving of our big, busy family and pets.
Plus, LIFECORE's proprietary ZERO-ADD technology means no formaldehyde is added during the manufacturing process, allowing the floors to meet stringent standards for low VOC products, including Indoor Air Advantage Gold and GREENGUARD Gold certifications. So it's safe for the air you breathe, making it perfect for our family.
Our fingers (and toes) are crossed as we await the material confirmation.
The Bad News
I suppose there really isn't any bad news other than I will have to complete this kitchen in FIVE weeks in order to accommodate the photographer! FIVE WEEKS!!!!
As crazy as it sounds, I think we just may pull it off!
Pray for me y'all. I'm going to need a vacation after this one!
Let's see what the others have accomplished in week 3!
At Charlotte's House | Design Addict Mom | Erika Ward Interiors | Erin Kestenbaum | Girl & Grey
Gray Malin | Hommeboys | I Spy DIY | Jewel Marlowe | The Learner Observer | Making it Lovely
Nicole White Designs | Old Brand New | Oscar Bravo Home | Place of My Taste | The Rath Project
Room for Tuesday | SG Style | Undecorated Home | Veronica Solomon | Media BH&G | TM by ORC